It's amazing how one week can so drastically change your perspective on whats most important in life. I've been left in complete awe of the Honduran people and can't get images from last week out of my mind.
Moments keep replaying in my head... like watching President Zelayas plane fly over the Toncontin airport, where just after being shot at, teargassed and having stood next to their fellow brothers and sisters as they were brutally murdered for demanding justice, the Honduran people remained in the streets. Defiantly we stood in front of the military blockade as we watched the president try to land while everyone, with tears in their eyes and fists in the air sang the Honduran national anthem.
There is a refrain in the national anthem that says:
Por guardar ese emblema divino
Marcharemos, oh patria!, a la muerte;
Generosa ser nuestra suerte
Si morimos pensando en tu amor.
Defendiendo tu santa bandera,
Y en sus pliegues gloriosos cubiertos,
Seran muchos, Honduras, tus muertos,
pero todos caeran con honor!

Which roughly translates to:
To guard this sacred emblem
We shall march, oh fatherland, to our death;
Our death will be honoured
If we die thinking of your love.
Having defended your holy flag,
And shrouded in its glorious folds,
Many, Honduras, shall die for you,
But all shall fall in honour.
I received a very sweet email from a friend in Honduras today who said:
"Honduras is a beautiful land! With people looking to fight for your rights!
But powerful groups want to manipulate, handle the people at your convenience!
But people will fight to the end! Thank you for your solidarity with my people."
Honduras, we are still listening.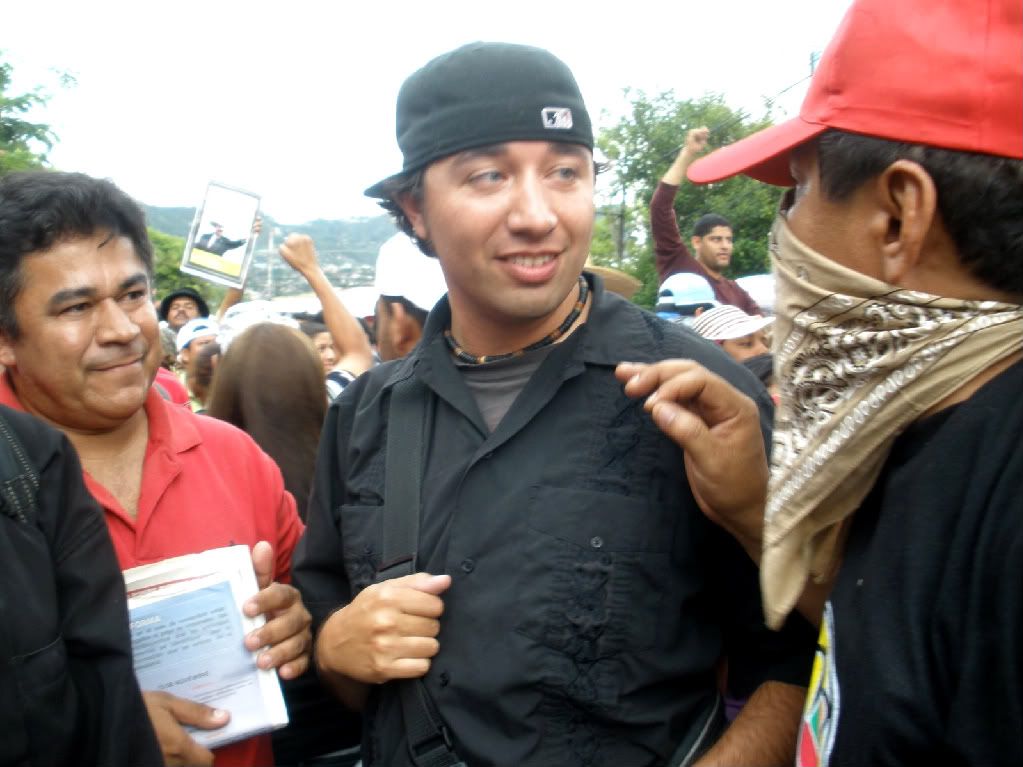 Thanks for the picture Dani.